Tracing the roots of Sarasota's arts and culture explosion
Posted by Judie Berger on Friday, December 24, 2021 at 1:49 PM
By Judie Berger / December 24, 2021
Comment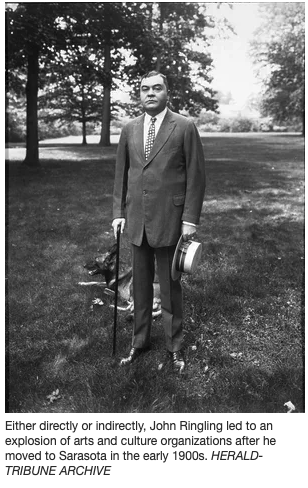 Six degrees of John Ringling: Tracing the roots of Sarasota's arts and culture explosion
Jay Handelman | Sarasota Herald-Tribune
In the wake of Sarasota County's centennial celebration, it is a good time to explore part of what has made the area so appealing to visitors and residents – the arts and culture that blossomed in the community. Without them, Sarasota might be just another beachfront community.
You might consider this list Six Degrees of John Ringling, because most of the growth in the arts occurred because he brought the Ringling Bros and Barnum & Bailey Circus to Sarasota for its winter quarters. Without the circus, there might not have been an influx of painters, musicians, performers, and other artists who discovered Sarasota and wanted to have more to do and create. They helped give rise to the visual arts scene, theater, classical music, opera and ballet. And now it appears that the Ringling Bros. Circus, which shut down in 2017, may be making a comeback in the next two years.
Here's a look at key milestones in Sarasota's vibrant arts scene.
John and Mable Ringling
The couple visited friends in Sarasota in 1909. By 1912, they bought their first winter home in the community and John Ringling started acquiring property with his brother Charles with a vision of creating a tourist resort. John and Mable bought property on the Sarasota Bayfront and commissioned construction of a 30-room mansion inspired by the Venetian Gothic palaces he had visited. It was designed by New York architect Dwight James Baum and built by Owen Burns. Ca' d'Zan (House of John) was completed in 1926, the year Charles died and John became the only Ringling brother, continuing as president and manager of the Ringling Bros. and Barnum & Bailey Circus.
Circus Winter Quarters
In 1927, with the local land boom collapsing, John Ringling decided to move the winter quarters of the circus to Sarasota from Bridgeport, Connecticut. The Sarasota Herald called it the "most startling and important announcement ever made in the history of Sarasota." It would lead to decades of growth in the arts and cultural scene.
Sarasota Concert Band
The Sarasota Concert Band traces its history directly back to John Ringling because it is the successor organization to the Czecho-Slovakian National Band, which Ringling brought to Sarasota in 1925. A plaque on St. Armands Circle states that the group was among the Seven Virtues that Ringling sought for the community. The Sarasota Concert Band's current organizational structure began in 1954 under the leadership of Arthur Rohr. The ensemble played up to a dozen free concerts per year at the Lido Beach Casino, the Ringling Museum Courtyard and, since its opening, at the Van Wezel Performing Arts Hall. It is also known for its annual Memorial Day Concert at Phillippi Estate Park. Among the music or artistic directors have been Tony Swain, Bill Pruyn and, since, 1997, William J. Barbanera.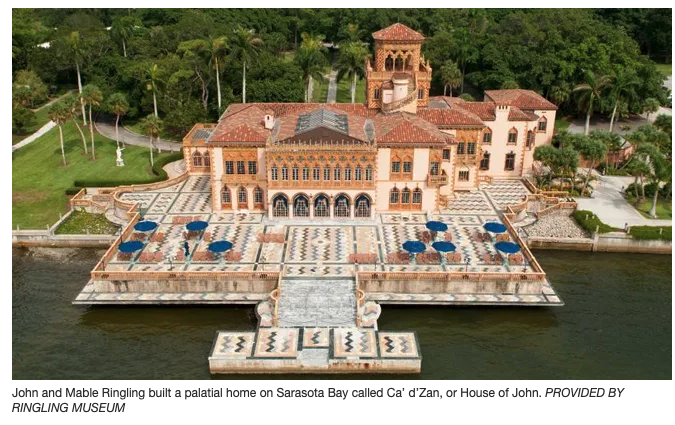 The Ringling Museum
In addition to building a mansion, John Ringling created an art museum to house his extensive collection of paintings and sculptures. The John and Mable Ringling Musem of Art opened to the public for the first time in 1931, and was turned over to the state of Florida on his death in 1936. After several years of struggling, it grew to become one of Florida's major art museums.
Ringling College of Art and Design
Ringling College of Art and Design marks its origins to conversations between John Ringling and leaders of what is now Florida Southern College in Lakeland. It opened as a branch of the college in 1931 as the School of Fine and Applied Art of the John and Mable Ringling Art Museum. It has grown into a four-year accredited college with a wide range of degree programs. It operates a growing number of galleries on campus, as well as the Sarasota Art Museum. Larry Thompson has been president of the college since 1999.
'Chick' Austin builds Ringling history
As important as the Ringlings were to Sarasota's arts development, A. Everett "Chick" Austin, the first director of The Ringling Museum, maybe even more so. He purchased paintings, prints, drawings, scenic and costume renderings and Venetian furniture for a theater college. More importantly, he decided the museum needed a theater. In 1954, he won approval to build a new wing for a jewel box theater imported from Asolo, Italy, which later became home to the beginnings of both Asolo Repertory Theatre and the Sarasota Opera. Theater performances were held there, but in the summer of 1959, faculty at Florida State University started using it for a summer theater company featuring students in restoration comedies. That summer operation grew into what is known today as Asolo Repertory Theatre. Asolo Rep moved out of its original home, now known as the Historic Asolo Theater, and created its own building adjacent to the museum that it now shares with the Sarasota Ballet. The building and the museum are now part of Florida State University, which also operates a graduate acting conservatory in Sarasota.
•••
For more information about the Sarasota area, or if you would like to receive regular email updates, please contact me to be added to our private client list. If you're thinking of buying or selling, call today for a confidential consultation at 941.928.3424 or [email protected].