The Most Expensive Homes in Sarasota
Posted by Judie Berger on Thursday, September 1, 2022 at 4:11 PM
By Judie Berger / September 1, 2022
Comment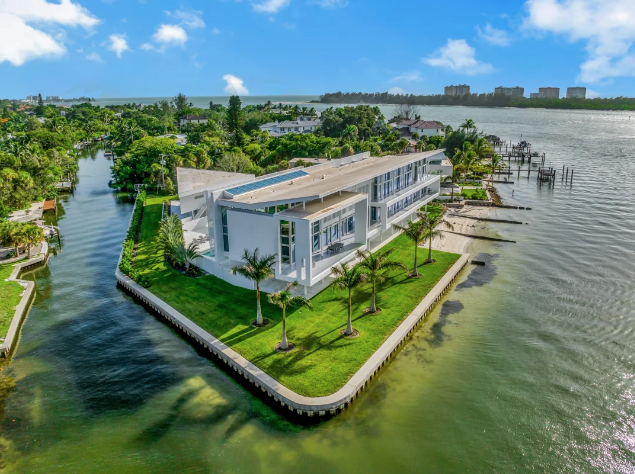 By Susan Burns, Cooper Levey-Baker, and Kim Doleatto | Sarasota Magazine
What all 10 homes share are prime waterfront locations and lots of square footage.
Compared to Buckingham Palace, valued at $1.6 billion, or the priciest home in the U.S., dubbed "The One" in Bel Air, Los Angeles, valued at $123,833,152 million, the Sarasota-Manatee luxury home market remains humble, even while it recently introduced its most costly listing yet, at $25 million.
To put together this list of our area's most expensive homes, we used local property appraiser records to find the area's 10 most highly valued homes for 2022. (All 10 are located in Sarasota County; Manatee County's most expensive home is located on Longboat Key and is valued at nearly $12.5 million.) What surprised us—given all the new wealth pouring into the region and the reams of new, high-end construction—is how stable the top 10 list remains when compared to the last time we updated this list, in 2019. Seven of the 10 homes from three years ago still rank in the top 10 and are still owned by the same people.
What the listed homes share may be obvious: a prime waterfront location, privacy and loads of square footage. Here's a look at the top 10 and who owns them.
No. 1: $22,102,500
1420 Bay Point Drive, Sarasota
Owner: Katherine Ebbeson
Value in 2021: $15,135,200
Former Congresswoman and Florida Secretary of State Katherine Ebbeson (née Harris) built this 16,016-square-foot bayfront home in desirable Bay Point Park in 2012. The architecture follows the Beaux-Arts style, based on Paris' Hotel Biron, which was constructed in 1730. The house has six bedrooms, 11 baths, a pool, a boathouse and a dock. Now out of politics (Ebbeson certified the Florida recount in the controversial 2000 presidential election), Ebbeson—granddaughter of citrus and cattle magnate Ben Hill Griffin, for whom the University of Florida's football stadium is named—married Texas banker Richard Ware in 2017; the couple splits their time between Sarasota and Amarillo, Texas.
No. 2: $21,463,400
2309 Casey Key Road, Nokomis
Owner: Ping Faulhaber
Value in 2021: $17,094,600
The late Fritz Faulhaber and his engineer wife, Ping, liked the friendliness of Sarasota and the education at Pine View, so they moved their young family to Casey Key from Clearwater, where The Faulhaber Group companies are headquartered. They purchased this Gulf-to-bay property for just over $2 million in 1998, built a 19,674-square-foot, Spanish-style home in 2007 and later created an award-winning 1.2-acre pagoda garden. The Faulhabers also created the Suncoast Science Center/Faulhaber Fab Lab in Sarasota to inspire young people to enter careers in science. Ping is the executive director, and, last year, was elected to the Gulf Coast Community Foundation's board of directors for a three-year, four-month term.
No. 3: $21,281,600
132 N. Washington Drive, Sarasota
Owners: Jeffrey and Mary Penny Vinik
Value in 2021: $15,382,000
Hedge fund legend and Tampa Bay Lightning owner Jeffrey Vinik and his wife, Mary Penny, own this showstopping mega-mansion on St. Armands Key. One of the largest homes in Sarasota, it was reportedly nicknamed by neighbors the S.S. Magellan for its cruise ship proportions and for the $500 billion Magellan Fund Vinik managed in the '90s. Vinik bought two existing mansions and razed them to build this stark-white, ultramodern complex of 24,040 square feet (16,245 indoors). The home includes eight bedrooms, eight full bathrooms, five half baths and a swimming pool on Sarasota Bay with a view of the Ringling Bridge. Vinik is also developing the $3 billion mixed-used Water Street Tampa project and is an investor in ventures from skincare to radiation protection gear for soldiers and video game headsets, according to the Tampa Bay Times.
No. 4: $20,964,300
1253 Hillview Drive, Sarasota
Owners: Bridgeview Land Trust, David and Lisa Grain
Value in 2021: $16,211,300
Investment executive David Grain and his wife, Dr. Lisa Butler Grain, own this property in Harbor Acres, one of the hottest neighborhoods in town. Grain was a Wall Street investment banker and then an executive in the telecommunications industry before he launched his own private investment firm, Grain Management. Once owned by Dow Jones Co. billionaire heiress and New College of Florida supporter Jane Bancroft Cook, the home was bequeathed to New College and sold at auction for $3.9 million. The property sat empty for years before the Grains purchased it in 2006 for $6.5 million. In 2018, they built a 28,182-square-foot, four-bedroom mansion. Tapped for leadership on many state and federal councils, including being appointed to a U.S. Department of Homeland Security council by President Barack Obama, David Grain is also the founder of a college prep program that has helped hundreds of local African American and Hispanic students with their SATs, college trips and enrichment programs.
No. 5: $20,318,800
2209 Casey Key Road, Nokomis
Owners: Walter and Marilyn Kreiseder
Value in 2021: $16,322,700
Inventor and plastics mogul Walter Kreiseder and his wife, Marilyn, own this Casey Key Mediterranean mansion. Walter, who holds numerous patents, was a former owner of injection molder Courtesy Corp. in Illinois. Purchased in 1999 for nearly $4 million, the original home, designed by Ralph Twitchell of the Sarasota School, was razed to make way for a 14,898-square-foot home with four bedrooms, eight bathrooms, a beach cabana and a boat dock. During the build, it was rumored to be Oprah's new abode. The gossip garnered the site unwanted attention and drop-ins from wannabe paparazzi until someone erected a hand-drawn sign that read, "Not Oprah's." Builder Michael Walker, president of Michael K. Walker Associates in Sarasota, who led the project, says he isn't sure how the rumor got picked up, but says an elongated letter "O" cutout shape in the privacy wall may have been the culprit that even had tour buses stopping to gawk.
No. 6: $19,831,800
845 Longboat Club Road, Longboat Key
Owner: 845 LBCR Land Trust, James and Laura Rogers
Value in 2021: $14,406,500
Serenissima, Italian for "most serene," made headlines in 2017 when it went on the market for $26.5 million, making it Sarasota's most expensive single-family listing ever. The price later dropped to nearly $19.8 million at the time of the sale and fetched $16.5 million when it eventually sold in 2020, tying it with a Casey Key home for the most expensive residential sale in Sarasota County. The home is a grand Venetian-inspired estate in the Longboat Key Club's Regent Court neighborhood and has nearly 20,000 square feet of living space, including six bedrooms, six full baths and two half-baths, and generous outdoor terraces with water views. Among its many custom details are a gilded birdcage elevator and hand-painted murals on the dining room ceiling.
The address is the home base for the James and Laura Rogers Foundation, a nonprofit that has donated to arts and youth development nonprofits in Tennessee. The Rogers started the foundation in 2011. "They're the nicest down-to-earth people," says Rich Polese, a founding agent with Compass who represented the Rogers in the transaction. "They decided they wanted to explore properties in Florida, looked at the east coast and weren't impressed, and then came over to the west coast. The first time they ever came to Longboat is when I met them, and they absolutely fell in love with it."
No. 7: $19,809,700
4449 Bay Shore Road, Sarasota
Owners: James and Maryann Armour
Value in 2021: $15,358,900
This massive, 21,192-square-foot Parisian-inspired home overlooking Sarasota Bay is owned by James and Maryann Armour. He's the former chief executive officer and chairman of AM General, LLC of South Bend, Indiana, a defense contractor that makes Humvees and Hummer SUVs. The Armours purchased the unfinished home for $19 million in 2008 from financier Howard Jacobs. After years of controversy and lawsuits over the existing home's defects, the Amours ended up investing $14 million in renovating it. The three-story, Beaux-Arts-style home has 10 bedrooms, 17 bathrooms and a pool. The Amours are supporters of the Fine Arts Society of Sarasota and Selby Gardens.
No. 8: $17,997,400
857 Longboat Club Road, Longboat Key
Owners: Pleasant Real Estate LLC, Clayton Lee and MaryAnn Mathile
Value in 2021: $12,587,400
Built in 2008, this 15,954-square-foot home has six bedrooms, 12 bathrooms and a pool. Purchased in 2000 by Clayton Lee Mathile and his wife MaryAnn, they transferred the deed to Pleasant Real Estate in 2003. After leaving his job as an accountant at the Campbell Soup Company, Mathile, originally from Ohio, bought the Iams pet food company in 1982 and built it into a powerhouse, then sold it to Proctor & Gamble in 1999 for $2.3 billion, placing him on the Forbes billionaire list. He even has a Wikipedia page. Notable philanthropists, MaryAnn received an honorary doctor of humanities degree from Saint Mary's College in 2006, and she and her husband gifted the school $9 million in 2011. Founded in 1989, The Mathile Family Foundation has granted more than $230 million to nonprofits that help children and families. Clayton Mathile also founded Aileron, a nonprofit focused on helping businesses thrive, and has authored self-help books focused on how to win big in business.
No. 9: $16,590,200
3332 Gulfmead Drive, Siesta Key
Owner: Gulfmead Land Trust
Value in 2021: $3,074,700
We could find scant details about who lives at this home, which was built last year after the mystery owners razed a 1970-built house that previously sat on the property. Sitting on just under an acre of waterfront on the very northern end of Siesta Key, it has two buildings and a total of almost 10,000 square feet of living area, with seawalls on Bayou Louise and Big Pass.
With the prime location comes a slice of history—it's where Harry Higel's Hotel Higelhurst once stood. Higel moved to Sarasota in the 1880s, became involved in politics (he was elected mayor three times and served four terms on the city commission), and fought for Sarasota to incorporate into a town. He also transformed this difficult-to-reach backwoods location into a resort destination for wealthy snowbirds. The Higelhurst was two stories tall, with columns all around and a large screened porch on the second floor. It opened in 1915, with Higel ferrying 200 celebratory guests to and from the mainland on one of his boats.
But within two years, just before the Siesta bridge was officially opened, the hotel burned to the ground, and on Jan. 7, 1921, Higel's body was discovered on north Siesta Key, his head and face so badly battered that he was not recognizable. A physician cleaned his wounds and stabilized him as best he could, but Higel, 53 at the time, never recovered. Rube Allyn, who also lived on Siesta Key and was a former editor of The Sarasota Sun and publisher of the Florida Fisherman, was arrested for the crime and jailed in Bradentown for his safety. (Historian Karl Grismer wrote that he might have been lynched otherwise.) A grand jury decided there wasn't enough evidence to hold him for trial, and he was released 61 days later. A $1,000 reward was offered, but the culprit was never identified.
No. 10: $16,339,800
6910 Point of Rocks Road, Sarasota
Owners: Gary and Elizabeth Kompothecras
Value in 2021: $12,879,100
Gary and Elizabeth Kompothecras bought land on Siesta Key in 2003 for $2.3 million and built this 13,562-square-foot home by 2010. The founder of the 1-800-ASK-GARY referral service and a former chiropractor, Gary says it took seven years since there were "a lot of change orders and waiting on materials like imported silks and limestone." The seven-bedroom, seven-bathroom home includes a sauna, hot tubs, a bowling alley, a steam room, a wine cellar, a theater and private beach access. The multi-storied, columned mansion was modeled after William Vanderbilt's Marble House in Newport, Rhode Island, which was designed by architect Richard Morris Hunt in 1892. That home reflected the taste of Vanderbilt's wife, Alma, who was educated in France and developed a fondness for its art and culture. In fact, it was that mansion that started the Beaux-Arts craze in Newport.
Locally, the Kompothecras home is one of the most famous houses in town, thanks to its starring role in the MTV reality show Siesta Key, which originally followed the couple's son Alex and his cohort. "I get a lot of knocks on the door from people wanting a tour," Gary says. The property is in the midst of a remodel that kicked off a year and a half ago and will cost the couple roughly $5 to $6 million. It should wrap up in about six months. Already, they've added torches out front, "like Mount Olympus," Gary says.
•••
If you're considering a move and would like to discuss detailed information about market trends in your neighborhood with an experienced professional, please contact me for a confidential consultation; I look forward to discussing your real estate goals with you.
For a full report on Siesta Key and the Sarasota-Manatee area that is sent regularly to my private client list, please contact me at 941.928.3424 or [email protected].