Siesta Key Mid-Year 2021 Market Update: Robust Demand Continues At All Price Points
Posted by Judie Berger on Friday, August 13, 2021 at 10:48 AM
By Judie Berger / August 13, 2021
Comment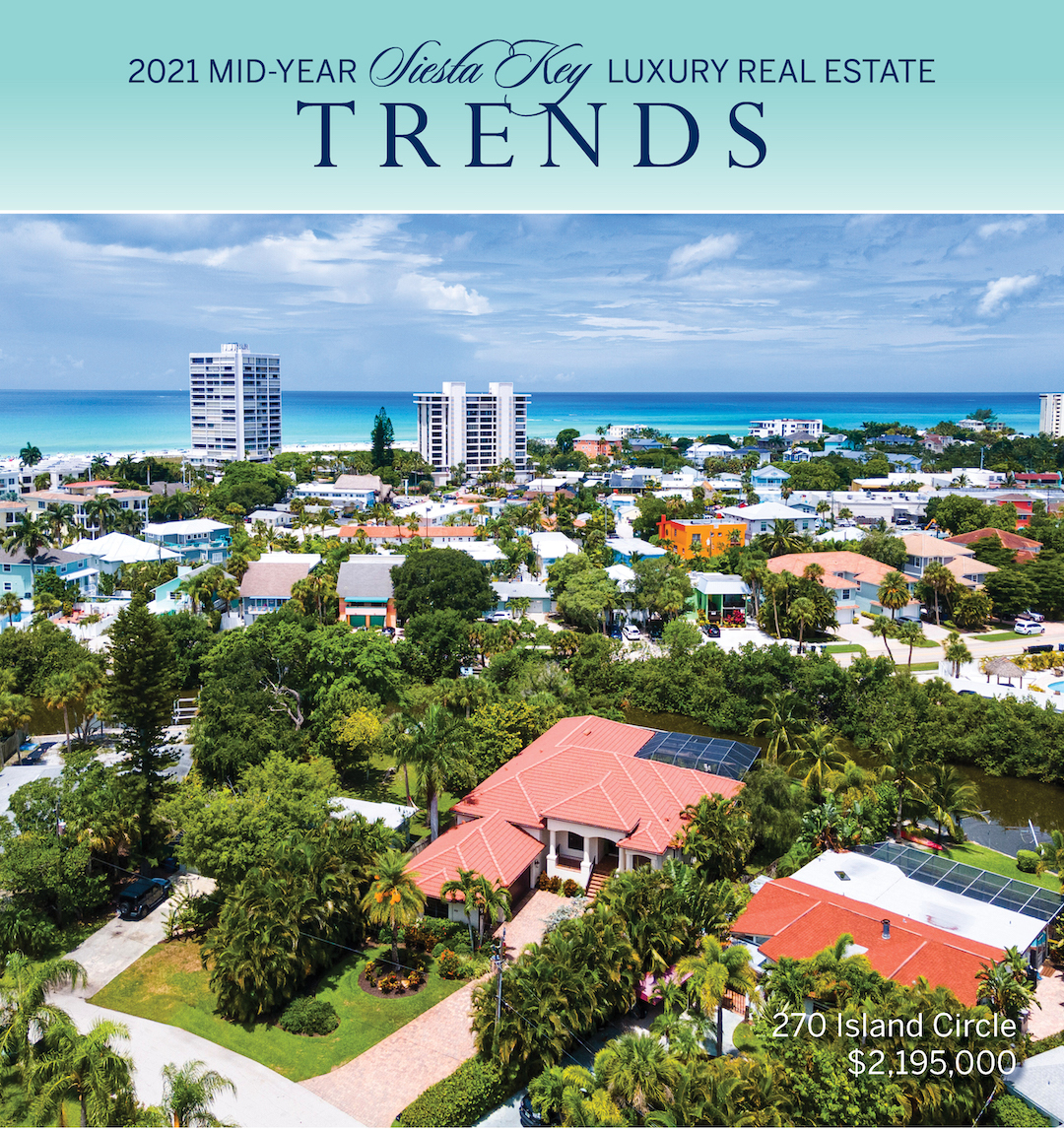 Siesta Key Mid-Year Review 2021 vs. 2020
by Judie Berger, Your Siesta Key Expert
By the first half of 2021, home prices surged as supply outstripped demand. Inventory of both single-family homes and condos on Siesta Key decreased year-over-year by a staggering 75%! A healthy market in 2019 changed to a radical swing market in 2020, followed by an unimaginable, demand-driven market in 2021. Nowhere has this been felt more than in resort locations like Siesta Key, where people are moving to fulfill their lifelong dreams. I am often asked the following questions: Have we experienced a real estate bubble or a justified market response? Will elevated prices be sustained or pull back? How long will it continue? Will it ease off, or will it just stop? Of course, no one knows for sure. There are subtle indicators of an easing market in our near future, but there are no indicators of a sudden stop or crash. Demand is by genuine buyers, many purchasing with cash, not speculative leveraged investors, which is a critical differentiator from the boom market in 2005 - 2007. Prices have been pushed higher as a result of low inventory coupled with a substantial increase in buyers, especially those from the Northeast and the West Coast, who are used to a higher average price point and consider our region to be moderately priced.
The single-family home market continues with robust demand at all price points, with a 112% year-over-year increase of homes sold and the average price up 53%. Unquestionably, demand is most substantial in the $1 Million plus market segment. Demand for condos was even more robust – a 128% increase in condos sold in 2021 compared to 2020, with every price point experiencing unprecedented growth. We will be watching closely for possible market shifts in Q3 and Q4. For a full report on Siesta Key and the Sarasota-Manatee area that is sent regularly to my private client list, please contact me at
[email protected]
or 941.928.3424.
SINGLE-FAMILY HOMES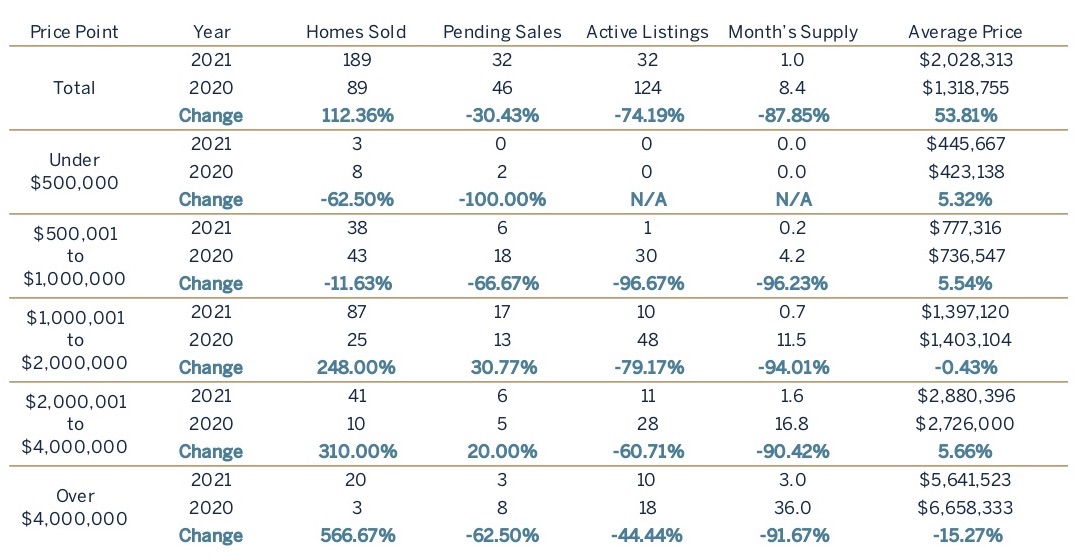 ---
CONDOS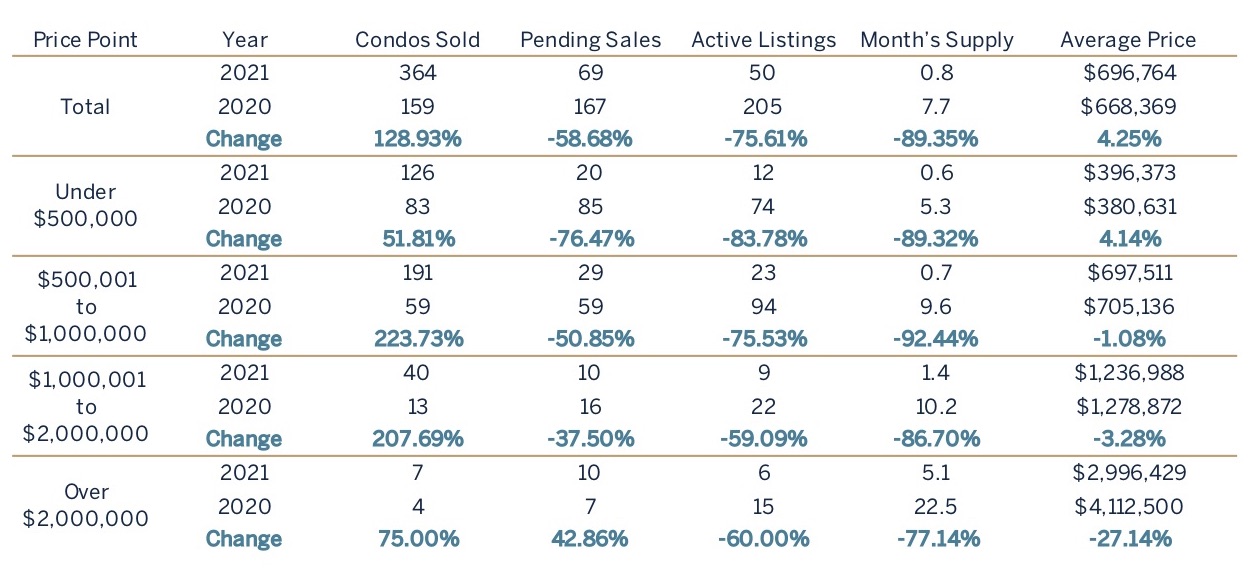 ---
If you'd like to receive regular email updates, please contact me to be added to our private client list. If you're thinking of buying or selling, call today for a confidential consultation.