Sarasota "West of the Trail" Neighborhoods
Posted by Judie Berger on Friday, January 30, 2015 at 1:59 PM
By Judie Berger / January 30, 2015
Comment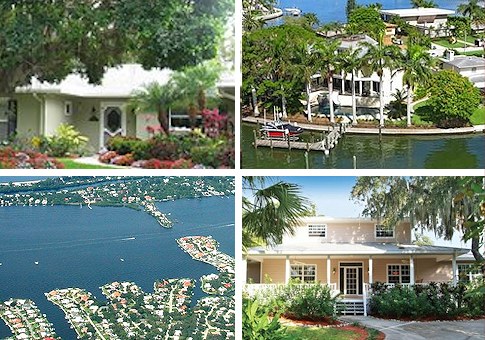 Ask any native of Sarasota where the most desirable properties in Sarasota are and you will very likely be told "West of the Trail."
The group of "West of the Trail" (The ?Trail? is the Tamiami Trail aka U.S. Rte 41) neighborhoods lie on the west (or bay front) side of South Tamiami Trail. The area is bounded generally by Mound Street on the north and by Bay Road on the south.  Many of these serene and charming neighborhoods sit under canopies of 100-year old banyon trees.
Home buyers who typically buy a home in one of the "West of the Trail" neighborhoods are generally those who are seeking more than one of the following attributes:
Homes with historic significance
Excellent schools within walking distance
Proximity to excellent health care at a nearby hospital
Neighborhoods with mature trees, charm and character
Convenient access to Downtown Sarasota
Homes with deep water docking and bridge-free access to Sarasota Bay
An abundance of friendly, informal and nearby gathering spots
West of the Trail neighborhoods meet virtually all of these criteria.  Inf, fact, it is largely because of these facts, homes in this area of Sarasota maintain their value better than almost any area in Sarasota and Manatee County.  We?ll review here a few of these attractive neighborhoods to give you a feel for what is so special about the West of the Trail area.
McClellan Park is located in the original settlement that became the city of Sarasota. McClellan Park and next-door Desota Park, which was developed in the 1920?s are neighborhoods of mostly older homes, set in a tranquil area of narrow, winding tree-shaded streets.
Cherokee Park and Harbor Acres seem to transcend time. Wide, quiet streets and mature trees envelope homes in a wide range of architectural styles from traditional to Mediterranean with even a few contemporary style homes. Many of the homes in these neighborhoods have been recently renovated.
Avondale, a neighborhood of about 190 homes located on Hudson Bayou, tends to attract younger families because of the Southside Elementary School district, one of the most sought-after schools in the Sarasota County School Districts. The local newspaper recently said of Avondale, "It's a paragon of walkable urban planning, with quiet streets with sidewalks on both sides of the street and mature trees offering ample shade.
For those with large yachts or sailboats with permanent keels, many of the homes in neighborhoods like San Remo Estates, Coral Cove, Fisherman?s Bay and Southpointe Shores have direct bridge-free access to Sarasota Bay either directly or from deep-water canals.
Because Paradise Shores is located within easy walking distance of Sarasota Memorial Hospital, the neighborhood has many medical professionals among its residents.
The Landings is a secure, gated neighborhood of maintenance-free villas, single-family homes, unique multi-level tree houses, and condominiums. Architectural styles in The Landings vary from traditional Florida ranch-style homes to custom waterfront mansions.
In addition to all the charm of these and other West of the Trail neighborhoods, Siesta Key Beach, one of the most beautiful beaches in Florida, is just a ten-minute bike ride or a short drive from all of them. And, residents of these charming neighborhoods are also close to all the excitement, arts, cultural, dining and shopping venues of Downtown Sarasota. If you?'re looking for a bland, cookie-cutter, ?"you'?ve-seen-a-million-others-just-like-it" home, the West of the Trail neighborhoods aren't for you. ;But, for something unique, charming and maybe even historically significant, you owe it to yourself to look into this part of the Sarasota cityscape.  Home prices in the West of the Trail neighborhoods vary widely from as little as $200,000 for a small bungalow or fixer-upper to $8 million or more for the most elegant waterfront estates.
Providing you with accurate and helpful information on luxury homes and condos for sale in your preferred price range on the Sarasota real estate market including on our Barrier Islands, Longboat, Lido, St Armands, Casey and Siesta Key, is my goal. I'd be delighted to send you my free Sarasota Luxury Real Estate Package. For immediate service, call me at 941.928.3424.