Sarasota-Manatee Market Outlook | Pre-Season 2022
Posted by Judie Berger on Wednesday, October 12, 2022 at 5:01 PM
By Judie Berger / October 12, 2022
Comment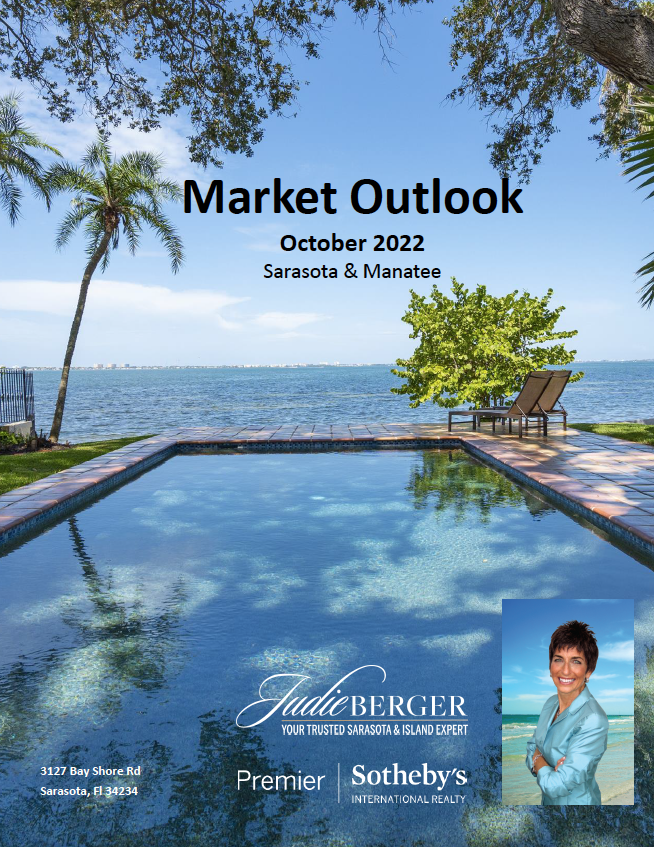 I am pleased to share our Market Outlook Report for the 3rd Quarter 2022 on what's happening in the real estate market locally and nationally. Discover why the Sarasota-Manatee area is the most-searched destination to move to in the USA.
Hurricanes and Housing Values
Will Hurricane Ian have a lasting negative impact on the market? While some areas of the region experienced post-Ian flooding, as a whole, fortunately, our region was spared. The weather is just one of many factors influencing values. Like the entire country, our market was already experiencing a market shift prior to the storm. We are no longer in a frenzied boom market nationally or locally. Inventory is growing yet still lower than pre-Covid, and we are seeing consistent demand even in the off-season. Based on historical data, market recovery was later followed by increasing values in areas affected by similar hurricanes in the past. Long term, our region is more likely to be affected by national market pressures driven by inflation and macroeconomic factors than by Hurricane Ian. As a result, some pundits will erroneously blame the hurricane for value adjustments that most likely would have happened regardless of the storm.
It All Boils Down to Supply and Demand
Does that mean prices will increase? More people want to move to Florida than almost anywhere in the US. Migration patterns favor our area, with an inflow of growth, especially in small to medium cities in a resort-type environment like Sarasota. Supply and demand drive the market; if demand and supply decrease at a similar pace, home values will remain stable. Currently, new listings are outpacing sold listings. Pendings are down, and days on the market have increased. Prices remain at higher levels but with more negotiation and seller concessions than in the first half of the year.
The real estate market remains healthy; it is adjusting, not collapsing, it is not 2008. As long-term demand rebounds, prices will likely return to an upward trend if the macroeconomic environment does not falter. Home values on the West Coast of Florida are not so much at risk as is a widening affordability gap. Increasing insurance costs and rising interest rates, combined with increasing values, will price more and more buyers out of the Coastal Florida market. We can't predict whether values will be higher or lower in a year; there are simply too many moving variables locally, nationally, and internationally. Prices are still historically high as we move into the busiest selling season of the year. If you are considering making a move, to be best prepared, now is the best time to contact us to discuss selling your home.
Learn about current market trends, and national and world factors affecting the real estate market by clicking the button below to access the full report. Staying educated on the changes in our marketplace and on your home's value will help you plan for the future and make smart investments. If you are interested in a customized Home Valuation report, please contact me.
As always, I am here for you to answer questions and consult with you on your real estate needs. I can also assist in connecting you with a Sotheby's International Realty expert in other areas of the USA and globally.
If you're considering a move and would like to discuss detailed information about market trends in your neighborhood with an experienced professional, please contact me for a confidential consultation; I look forward to discussing your real estate goals with you.
For a full report on Siesta Key and the Sarasota-Manatee area that is sent regularly to my private client list, please contact me at 941.928.3424 or [email protected].