Sarasota County Closures Ahead of Tropical Storm Elsa
Posted by Judie Berger on Monday, July 5, 2021 at 4:58 PM
By Judie Berger / July 5, 2021
Comment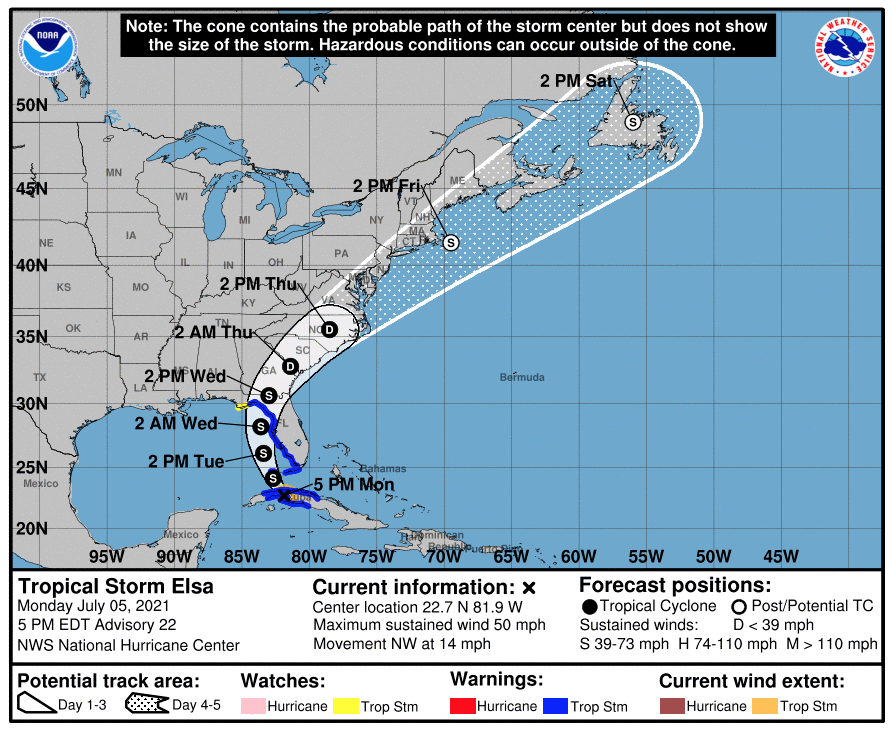 From patch.com: With Tropical Storm Elsa heading toward Florida, Sarasota County declared a local state of emergency Monday afternoon.
During a Monday news conference, Emergency Management Chief Ed McCrane likened the tropical storm's forecasted impact on the area to be similar to "every afternoon thunderstorm" experienced in the area.
Residents can expect heavy rain bands, total rainfall ranging from 4 to 6 inches and gusts up to 50 mph. He also doesn't expect "any serious storm surge," though some coastal areas that typically flood during high tide could see flooding, including areas of Longboat Key, he said.
Still, he added, "anytime there's severe weather, there's an amount of concern."
Ultimately, the impact on the Sarasota area will "all (be) dependent on what Tropical Storm Elsa does as it emerges back in the Florida straits after going over Cuba," McCrane said.
The area could see intermittent power outages and damage to weaker structures, such as carports, but nothing warranting evacuations or the need for shelters.
Sandbags are currently available to county residents at Twin Lakes Park, which is located at 6700 Clark Road in Sarasota. The site is open until 6 p.m. Monday and each vehicle is limited to 10 bags.
All Sarasota County government offices will be closed and there won't be any trash, recycling or yard waste collection for residents in unincorporated areas of the county Tuesday. Waste collection will resume Wednesday, McCrane said. The remainder of the week, trash pickup will be delayed by one day.
The county landfill at 4000 Knights Trail Road in Nokomis and county libraries will be closed Tuesday. All reservations at county parks and recreation facilities will be canceled and refunded or applied to past due accounts. County-run summer camps will be closed, and families will be issued a refund for the time missed.
Sarasota County Area Transit's fixed route, SCAT plus, OnDemand and the Siesta Key Breeze will be canceled Tuesday, as well.
Stay safe!