Record Number Of Baby Dolphins Born In Sarasota Bay In 2021
Posted by Judie Berger on Tuesday, December 21, 2021 at 5:15 PM
By Judie Berger / December 21, 2021
Comment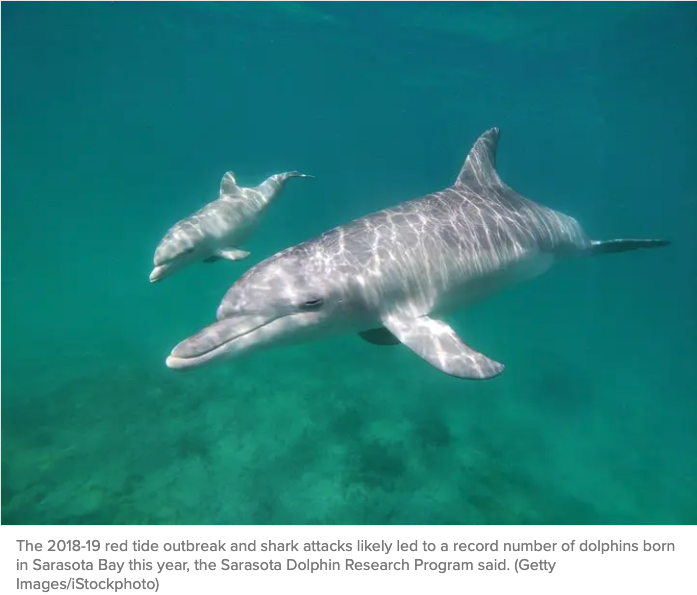 The 2018-19 red tide outbreak and shark attacks likely led to a record number of dolphins born in Sarasota Bay this year, researchers said.
Tiffany Razzano | Patch Staff
SARASOTA, FL — A record number of births has been recorded among the long-term resident bottlenose dolphin community of Sarasota Bay this year.
The Chicago Zoological Society's Sarasota Dolphin Research Program has documented 22 dolphin births in 2021, surpassing the record of 21 set in 2017.
The newest calf was first observed with its mother, Squarenotch, on Dec. 2. The 44-year-old dolphin has been observed in Sarasota Bay since 1980 and this is her sixth documented calf, according to a news release from SDRP.
"It's great to see the continuing productivity of the bay's dolphins, and really interesting that it was one of our older females that put us over the top," said Dr. Randy Wells, vice president of Marine Mammal Conservation for CZS and director of SDRP, which is based at Mote Marine Laboratory.
Squarenotch was one of the 466 dolphins that Wells documented as part of his University of California, Santa Cruz Ph.D. dissertation "Structural Aspects of Dolphin Societies," which he completed in 1986. As part of that work, he examined the population structure and social units of dolphins in Southwest Florida.
His studies expanded knowledge of the Sarasota Bay dolphin community, building on research that began in 1970 with the seminal finding that the bay's dolphins were long-term residents across decades and generations, according to SDRP. Today, the bay's dolphins are the focus of the world's longest-running study of a wild dolphin population.
Studying individual dolphins in their own habitat for extended periods has allowed researchers to gain insight into dolphin biology and physiology and delve deeply into their day-to-day lives and complex social interactions as a society. Wells' work has also improved the understanding of dolphins' needs in the face of increased human activity in coastal waters.
"It's exciting to document new calves each year as one measure of the health of the bay's dolphin population and the health of the bay itself," Wells said. "But the long-term nature of our research allows us to drill deeper and consider the question of why we had a record number of births."
The 2018-19 red tide outbreak in Sarasota Bay might have played a role in the number of calves this year, he said. Red tide was unusually strong during that outbreak, killing marine life and causing millions of dollars in losses to coastal economics.
During and following the bloom, researchers found fewer than half the average number of stingrays in the bay. They also used photographs to learn that Sarasota Bay dolphins were bitten by sharks in record numbers in 2019 and 2020.
They also found that 45 percent of the females that gave birth to calves in 2021, lost dependent calves during or since red tide.
"Adding these facts together allows us to make some tentative inferences," Wells said. "We know that stingrays are a primary prey item for sharks. When a preferred prey is unavailable, they'll look to alternatives.
"The loss of typical shark prey may have led to the increased interactions we documented between sharks and dolphins as alternative prey, which allows us to infer that increased shark predation accounts for at least some of the losses of dependent calves during that period. When we document decreased ray catches, we tend to see increased disappearances of young dolphin calves."
Since Sarasota dolphins typically rear their young for about four years, the loss of dependent calves before that age during and following the red tide outbreak in 2018-19 meant that more females were available to reproduce in 2020, contributing to the increase in the number of births this year, Wells said.
"The record number of births is a wonderful story in itself, but thanks to our long-term data, we're able to develop hypotheses about some of the factors that may have led to this result, which should lead to a better understanding of what can happen to an animal population when an environmental anomaly occurs," he said.
•••
For more information about the Sarasota area, or if you would like to receive regular email updates, please contact me to be added to our private client list. If you're thinking of buying or selling, call today for a confidential consultation at 941.928.3424 or [email protected].