Real estate bubble? 2021 2nd Quarter Report for Sarasota & Manatee Counties
Posted by Judie Berger on Monday, August 9, 2021 at 11:57 AM
By Judie Berger / August 9, 2021
Comment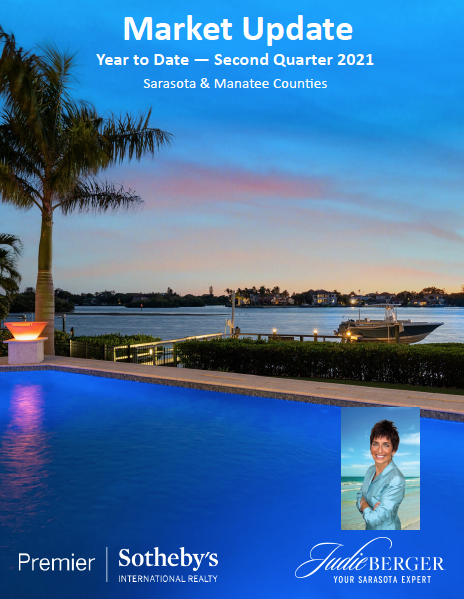 Are we experiencing a Real Estate Bubble? This seems to be the question of the day. Buyers are worried they are overpaying while sellers capitalize on the strong market.
The onset of Covid in March 2020 caused a rapid economic downward spiral with Real Estate leading the way. It unexpectedly bottomed out within two months and began an unprecedented upward path for the next 13 months and potentially beyond. We went from a healthy market in 2019 to a radical swing market in 2020 followed by an unimaginable demand-driven market in 2021.
The ongoing "demand" is remarkably tenacious. Real Estate has been in a continued Bull market nationally for the past 13 months. Prices have surged faster than any time since the mid-1920's as supply is unable to keep up with demand. Is it a bubble or is it a justified market response? Nobody knows if it will burst suddenly or ease back into a more normal state of balance,. It is unlikely that the current pace can continue much longer. At some point price increases have a direct effect on demand, causing the market to cool. This is a natural and predictable cycle. The question is, when and how fast will it cool?
What we do know is that "demand" today is real. This market is NOT similar to the 2007 market, where demand was artificially propped up by speculators who purchased with loans that they were not necessarily qualified for. Today's demand is real buyers who are purchasing homes for their own use, and most are being purchased with cash.
Though we cannot accurately predict the future, we can take a logical look at our recent past to help understand the realities as opposed to the perception.
Click Here
to read the full report.
For more information on selling or buying on Siesta Key and in the Sarasota-Manatee area, please contact me for a confidential consultation at 941.928.3424 or fill out the contact form below.