Far & Wide Readers Choice: Siesta Key Is Florida's Best Beach
Posted by Judie Berger on Monday, September 19, 2022 at 4:01 PM
By Judie Berger / September 19, 2022
Comment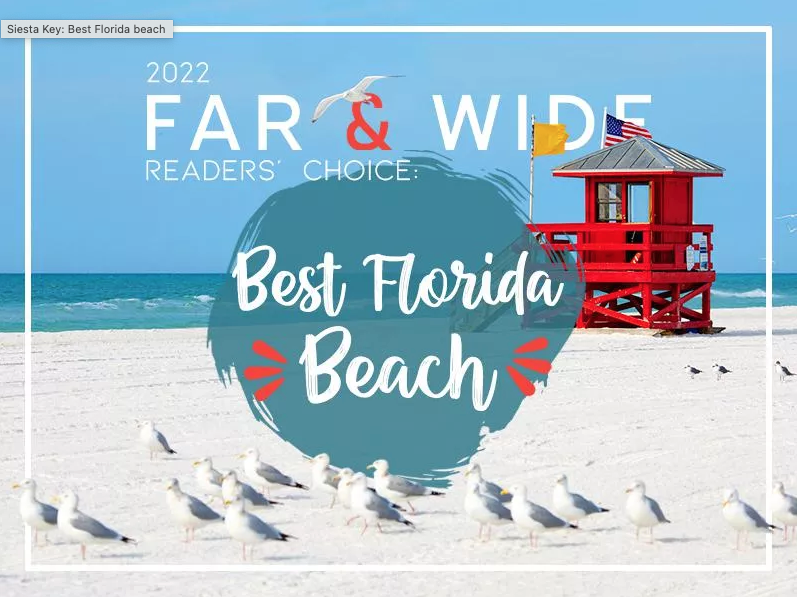 By Mariana Zapata | Far & Wide on August 25, 2022
Choosing the best beach in Florida is no easy task. That's why we let our readers do the hard work with a poll.
While the contest was tight, one clear winner came out on top: Sarasota's Siesta Key beach. With a total of 36 percent of the votes, people think there is simply no better place to enjoy the ocean in the Sunshine state. And we couldn't agree more.
Here's why everyone loves this Gulf Coast beach so much.
What Makes Siesta Key Beach So Special
It's not just our readers and our staff that say Siesta Key is unique: Science agrees, too. As soon as you step on the sand, you'll be shocked by its powdery softness. This isn't your imagination.
Unlike 98 percent of beaches in the world, Siesta Key is blessed with sand made of quartz rather than coral and minerals. Besides having a flour-like texture, the sand is perfectly white and also keeps cool no matter how intense the Florida sun gets. Sounds like a fairytale, doesn't it?
The beautiful white color of the sand creates a mesmerizing contrast with the clear aquamarine water that surrounds it. Stretching for over 8 miles, the beach also offers varied spaces. You can decide if you want to be near hotels and bars or if you'd rather spend time in the quieter areas.
What to Do Around Siesta Key
Sadly, you can't spend all of your time at the beach — though you are definitely encouraged to spend as much of it as possible lying on the cool sand. You can also enjoy water sports like sea kayaking and snorkeling or go for a bike ride on the beach, a very popular tour.
For those times when you must be away from the sound of the waves, there are plenty of fun things to do in Sarasota, the city adjacent to the island. Sarasota is considered one of the best places to live in Florida, in part because of its amazing cultural offerings.
Start by visiting the Ringling Museum of Art and the impressive Mary Selby Botanical Gardens. You can also go shopping in St. Armand's Circle or get close to nature at Myakka River State Park.
Where to Eat Around Siesta Key
We have great news for beach bums: You won't have to walk far to find good food in Siesta Key. You'll find myriad restaurants and bars in Siesta Key Village, a walkable neighborhood that's always buzzing with life. From Italian to seafood to Thai, your cravings will be satisfied here.
But if you want even more options, don't hesitate to make the short drive to Sarasota. Downtown has a diverse and exciting food scene. The absolute best place to dine, however, is Yoder's. This Amish restaurant specializes in American fare made by hand. No matter how full you are, don't even dare to leave without eating a pie.
Where to Stay in Siesta Key
There's a single rule in Siesta Key: Be as close to the beach as possible. Accommodation tends to be expensive, given that this is an extremely hot market.
The Beach Club at Siesta Key offers direct access to the beach in an old Florida setting that feels much cozier than larger hotels and apartments. But there are plenty of other beachfront options, including some pretty Airbnbs.
And if you can't make it to this seaside wonderland yet, there are plenty of other amazing Florida beaches to visit.
•••
If you're considering a move and would like to discuss detailed information about market trends in your neighborhood with an experienced professional, please contact me for a confidential consultation; I look forward to discussing your real estate goals with you.
For a full report on Siesta Key and the Sarasota-Manatee area that is sent regularly to my private client list, please contact me at 941.928.3424 or [email protected].