Market Update for Sarasota & Manatee Counties | Third Quarter 2021
Posted by Judie Berger on Friday, October 22, 2021 at 1:45 PM
By Judie Berger / October 22, 2021
Comment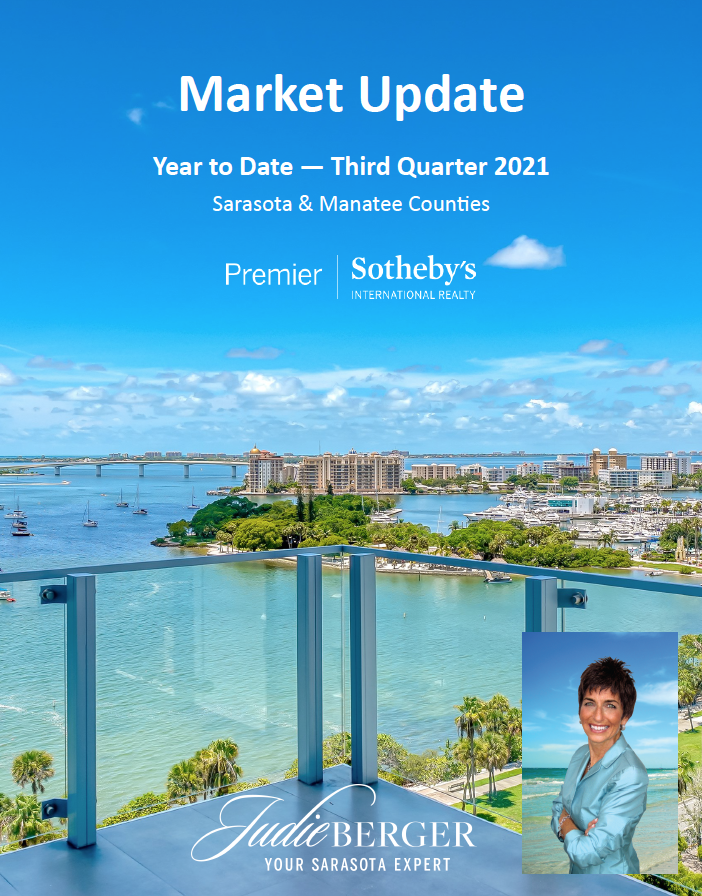 We are living the "perfect storm" for a booming real estate market:
• Baby boomers are retiring at unprecedented rates and many, if not most, want
to live in sunshine states
• Covid is causing shifts in where people want to live and where people can work
• We are experiencing the greatest transfer of wealth in our history as baby
boomers inherit wealth from their parents
These factors result in a massive demand for luxury homes in Sarasota, Florida, though it is unlikely that the current pace can continue much longer. Huge price appreciation over the past year has already resulted in pushback on properties that cannot justify their high prices. We are seeing a growing gap between lovely homes that sell for top dollar overnight and less desirable homes that are taking a long time to sell.
At some point, the market will cool; this is natural and predictable. The question is, when and how fast? We already see subtle indicators of an easing market. There are no indicators of a sudden stop or crash.
Although we cannot accurately predict the future, based on the data and current market sentiment, we believe 2022 is still going to be a strong market with ongoing demand but less frenzied than 2021, and insufficient inventory. We see fewer multiple offer situations with homes starting to be on the market a bit longer. Truly beautiful homes and condos will still command top dollar, but odds are good they will not appreciate further in the coming months. We are headed towards a more normal market, but it may take another 6 months or longer to get there. Please take a few minutes to review the entire Sarasota - Manatee 3rd Quarter Market Update.
If you would like to receive regular email updates, please contact me to be added to our private client list.

If you're considering making a move, contact me today for a confidential consultation at

941.928.3424

or

[email protected]

.