Hurricane Ian: Food Distribution, Debris Pickup, Sarasota Transit
Posted by Judie Berger on Tuesday, October 4, 2022 at 3:19 PM
By Judie Berger / October 4, 2022
Comment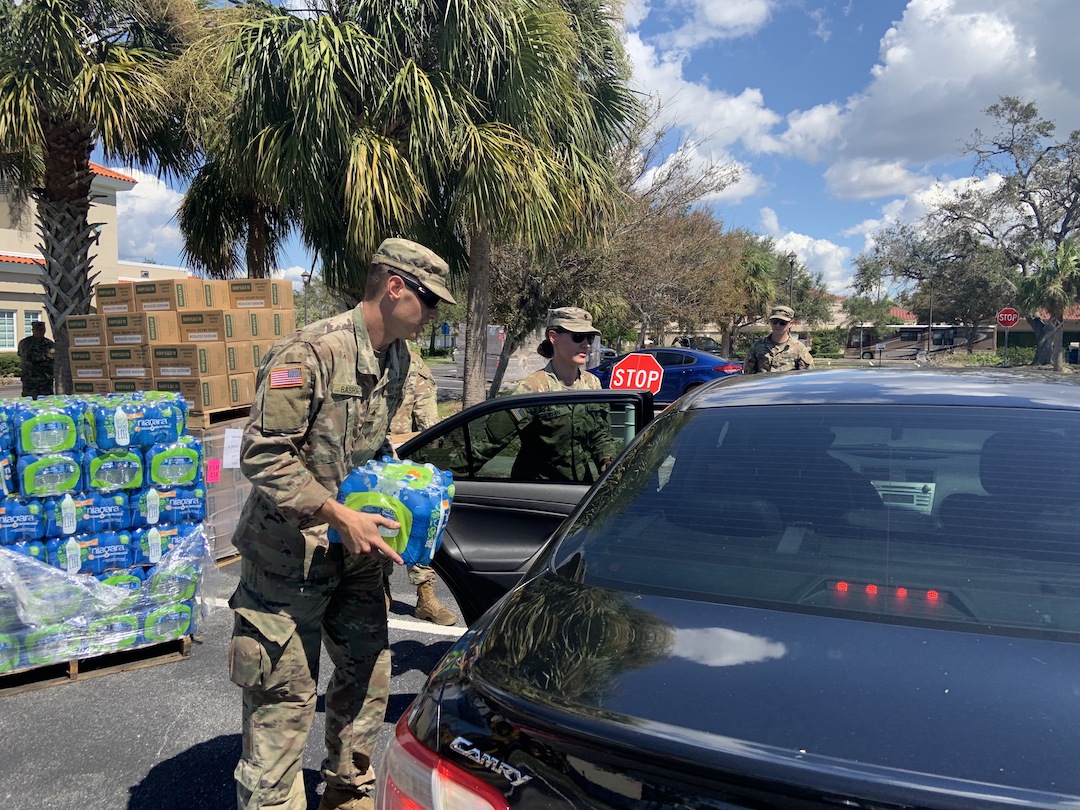 Check out the latest about Sarasota County's Hurricane Ian recovery efforts: power outages, boil water advisories, sandbags, schools closed.
SARASOTA COUNTY, FL — Sarasota County's recovery continues nearly a week after Hurricane Ian battered Southwest Florida.
As of Monday afternoon, more than 1,600 people had been rescued from areas hardest hit by the powerful storm and at least 88 people in Florida are dead.
As the Sarasota area continues its rescue and recovery efforts, here's everything residents need to know.
Garbage, Yard Waste, Debris
In the city of Sarasota, normal yard waste collection is suspended, according to a news release.
The city will focus its solid waste collection efforts on storm debris, including vegetation, fencing and other materials, which should be separated and placed curbside. A pick-up schedule will be announced soon.
The city's garbage and recycling collection is back on its normal schedule.
In Sarasota County, two public drop-off sites for vegetative storm debris will be open from 8 a.m. to 6 p.m. daily at Rothenbach Park, 8650 Bee Ridge Road in Sarasota, and Jackson Road Transfer Station, 250 S. Jackson Road in Venice.
Proof of county residents, such as a driver's license, tax bill or utility bill, is required to use these drop-off sites. Residents must self-unload all storm debris. No commercial debris or vehicles will be allowed at these sites.
County garbage and yard waste pick-up resume Monday, as well, while recycling collection remains suspended.
In the city of North Port, the Solid Waste Division will begin garbage and recycling collection Wednesday on its normal schedule.
Contracted debris management crews will begin to collect debris throughout the city that day, as well.
Power Outages
Just before noon on Monday, about 89,000 Sarasota County residences remain without power, according to PowerOutage.us.
"The city of Sarasota is still in an active emergency and recovery phase where power lines remain down in some areas with residents not having power restored, and some roads are blocked by debris. Our crews continue to respond to reports of trees down and other storm related issues in our neighborhoods," the city shared in a Facebook post on Sunday. "(Florida Power & Light) is working on restoring power as quickly as possible and we ask for your understanding and consideration during this time. FP&L is responsible for restoring power to their infrastructure. The city of Sarasota does not control which areas will be turned on next. We will work with FP&L to provide any support they require to decrease the time our neighborhoods are without electricity."
FPL has set up three outage relief sites at three North Port locations:
14275 Tamiami Trail
17000 Tamiami Trail N.
4675 Career Lane
Boil Water Advisories
The boil water advisory for the barrier islands in Sarasota city limits has been canceled, the city shared on Facebook.
Boil water notices have also been rescinded on Siesta and Casey keys, unless homes receive a door hanger from Sarasota County Public Utilities stating otherwise, the county said.
Meanwhile, the Englewood water district, city of North Port, town of Longboat Key and city of Venice remain under a boil water notice, the county said.
While an advisory is in place, bring water to a rolling boil for one minute to kill infectious organisms, the county added. Water can also be disinfected by adding eight drops of plain unscented household bleach (4 to 6 percent strength), which is about 1/8 teaspoon or a dime-sized puddle, per gallon of water. If a higher strength bleach is used (8.25 percent strength), only add seven drops of bleach.
Mix the solution and let it stand for 30 minutes, the county said. If the water is cloudy after 30 minutes, repeat the procedure once. Iodine or other disinfection tablets (available at many sporting goods departments and stores) may also be used.
Food, Water Distribution
Supplies including food, water and ice are being distributed at the following locations throughout the county:
San Pedro Catholic Church, 14380 Tamiami Trail, North Port
Englewood Center Plaza, 240 S. Indiana Ave., Englewood
Venice Hyundai, 200 Jacaranda Blvd., Venice
Venice Community Center, 326 S. Nokomis Ave., Venice
Wellfield Park, 1400 Lucaya Ave., Venice
The distribution site at Twin Lakes Park is closed Monday, the county said.
Sandbags
Sarasota County has suggestions for residents wondering what to do with their sandbags. The county said they should reuse dry or unused sand for future flood protection or home landscaping and dispose of wet/used sandbags with curbside trash.
Residents shouldn't dispose of wet/used or dry sand in sandboxes, on beaches or on school yards.
Sandbags that came in contact with floodwaters may be contaminated with bacteria, the county said.
Permitting
Sarasota County shared on social media that it will expedite storm-related permitting. The North County Permit Center at 1001 Sarasota Center Boulevard in Sarasota is open Monday, while the South County Permit Center at 4000 S. Tamiami Trail in Venice will be open Tuesday.
Transit Services
Sarasota County Area Transit services resume limited bus service on Monday. This includes the routes identified as "Sunday Service" with the addition of Route 99, the county said.
The SCATPlus paratransit service and the Siesta Key Trolley also resumed Monday.
The county's OnDemand service will remain closed, as curb-to-curb service is difficult to resume due to road debris and flooding.
Sarasota County Schools
Sarasota County Schools will remain closed until further notice as the district continues to assess, clean and repair damages to its facilities.
Sarasota County Libraries
The following Sarasota County Libraries reopened Monday:
Selby Public Library
Betty J. Johnson North Sarasota Library
Fruitville Library
These branches will be open Monday through Thursday, 10 a.m. to 6 p.m., and Friday and Saturday, 10 a.m. to 5 p.m., this week.
The Osprey Library will resume regular hours — Monday through Thursday, 10 a.m. to 5 p.m., and Saturday, 10 a.m. to 2 p.m. — on Monday.
Though it was previously announced, the Gulf Gate Library will not reopen Monday, the county said.
Parks and Recreation
The city of Sarasota's parks and recreation facilities are expected to reopen Tuesday, depending on electricity availability. Community pools will open at a later time.
Visitors to Sarasota parks are asked to use caution as many trees and limbs are down, and crews continue to clear them.
The city of Venice asks residents to voice both Venezia Park, 450 Nassau Street S., and Heritage Park in the West Venice Avenue median to the beach because of leaning and downed trees and other hazards from the storm.