Baby Boomers Have a Decision to Make - "Where To Retire"
Posted by Judie Berger on Monday, December 7, 2015 at 11:58 AM
By Judie Berger / December 7, 2015
Comment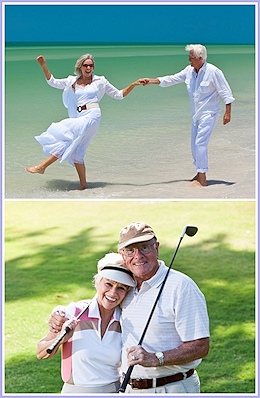 Members of the Baby Boomer generation have started turning 65 and many of them now have the opportunity to make a really important decision.  Those getting close to retirement may also want to consider making this decision now rather than waiting.
In 2012, there were over 43 million people over the age of 65 in the United States.  In 2015, virtually every day almost 10,000 people reach the point in their lives when they are ready to consider retiring. On a national basis, this demographic change has many implications, but on a more personal level, couples approaching retirement might want to have a discussion that will start with something like this;  "Now that we're free of the needs of our careers, where do we want to spend our retirement years ?  
Some will decide to remain in the community they've lived in for many years. Others will have financial or other personal considerations to weigh.  But those with the freedom to live anywhere they choose may want to explore other options.  These people may find it interesting to learn that Sarasota Florida has once again been ranked among the "Most Desirable Places to Retire."
Livability.com, an on-line resource that explores great places to live, work and retire, just published its latest list of the "Ten Best Places to Retire" and not surprisingly, Sarasota ranked high on that list.  Out of over 2,000 cities considered for the list, Sarasota ranked in the #2 position right behind Santa Barbara, California.  No other city in the state of Florida made the top 10 list at all. And, Livability.com acknowledges that retirees who choose Santa Barbara pay a very high price for its scenery, beaches and good weather. 
Sarasota has in the past earned many awards and recognitions and a secure spot in many "Top 10 Best" lists.  Actually, it should come as no surprise that Sarasota would appear at the top of another "Best Places To Retire" list.  CNBC  and Portfolio magazine chose Sarasota as one of the "Best Places to Retire." Money magazine called Sarasota "The Best Place to Retire Young" and the"Ultimate Beach Town" while American Style magazine listed Sarasota among it's "Top Small Cities for the Arts."
The Livability.com article says that, among its many other attributes, Sarasota ranks highly because of its high-quality, yet affordable health care facilities.  Sarasota Memorial Hospital, for example, is the second largest hospital in Florida and ranked among the top 1% of all hospitals in America.  Doctor's Hospital, Manatee Memorial Hospital, Blake Medical Center and the Lakewood Ranch Medical Center are all also highly rated health care facilities and the area are dotted with health and wellness facilities of all kinds serving Sarasota's active seniors.
Sarasota also offers its residents a reasonable cost of living with no state income taxes, a warm and sunny climate, excellent air quality, a low crime rate, and an enormous variety of arts, cultural and social attractions from the Ringling Museum, the Asolo Repetory Theater, the Van Wezel Performing Arts Hall and the Sarasota Orchestra, Opera and Ballet companies, to numerous local theaters and art galleries as well as fine and casual shopping and dining.  For jazz fans, the Sarasota Jazz Club is one of the largest jazz clubs in the U.S. dedicated to preserving and promoting jazz, America's original musical art form. For sports fans, Sarasota offers spring training baseball, polo, tennis, fishing and offshore boat racing, over 80 private, semi-private and public golf courses.  And, Sarasota has those world renowned soft sand beaches.  Siesta Key Beach has been on "Best Beaches in the World" lists several times.
It's been said that "Sarasota has all the charm of a small southern town with all the conveniences of a big city."  Events like the Sarasota Film Festival draw celebrities and art lovers to the city while St. Armands Circle is a world renowned mecca of  exclusive shops, galleries, exotic boutiques, sophisticated restaurants and nightlife.
The Sarasota area also offers the widest possible variety of residential properties from downtown high-rise condos from the most luxurious to more modestly priced units, waterfront homes and condos and highly walkable urban neighborhoods downtown and in historically significant districts to homes, villas and condos in golf and country club communities in just about every price range. There's something here to meet every imaginable need, desire and price point.
If you are among those fortunate enough to be able to make a decision on where to spend your retirement years and ready to do it, I would love to help you. As a Realtor who's lived and enjoyed the Sarasota lifestyle for over 25 years, I'm familiar with all of the options available to you in the Sarasota real estate market and ready to join you in finding your retirement home here on the Florida Sun Coast. Call me at 941.928.3424.  I'd love to answer all your questions.