10 New Year's Resolutions That Will Boost Your Home's Value
Posted by Judie Berger on Friday, January 8, 2021 at 4:05 PM
By Judie Berger / January 8, 2021
Comment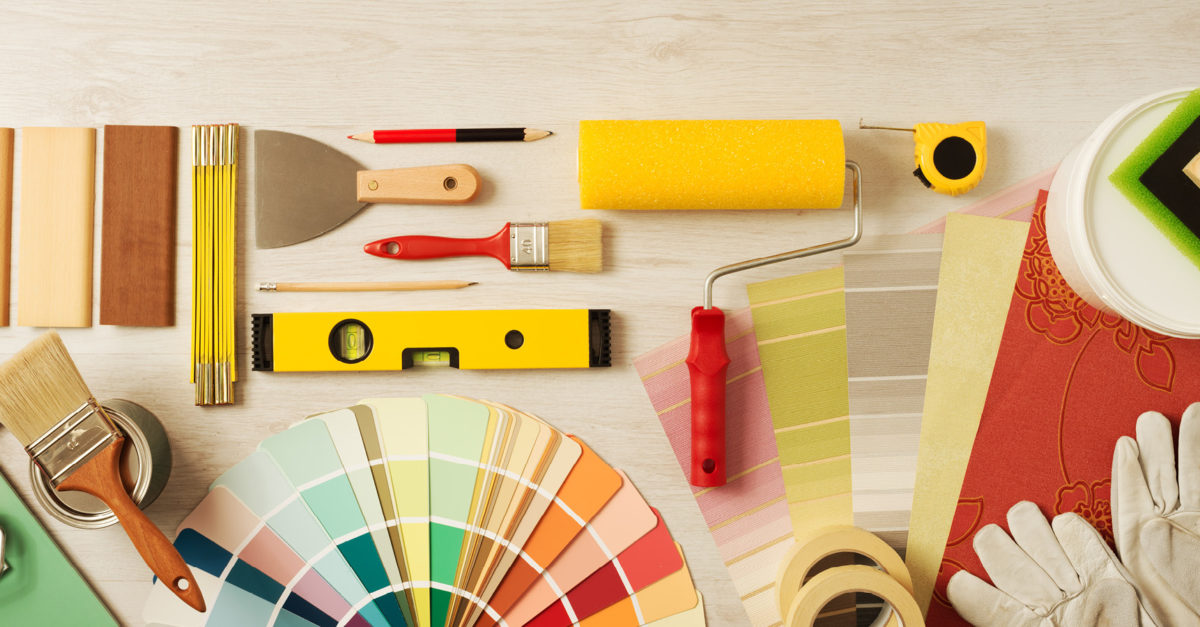 When we think of New Year's resolutions, we normally think about ourselves—however, making resolutions that impact your finances are often easier to keep. Here are ten things you should do in 2021 to make your home more beautiful, more valuable, and more pleasant to live in. The best part? All of these require minimal financial outlay while offering maximum return on investment.
1. Add some curb appeal
You may think that the most profitable home improvements are those you make in the kitchen and bathrooms. In reality, however, year after year, the biggest bang for your remodeling buck comes from replacing the front door and sprucing up the home's facade. While you may need some help hanging the door, you can add new house numbers, a new mailbox, and new hardware yourself, quickly and inexpensively.
2. Tick off that honey-do list
Deferred maintenance is one of the biggest budget-busters homeowners face. As small tasks become big ones and things left undone begin to multiply, the remedy can often mean a major home repair and an expensive lesson learned. If you've got an extensive list of small repairs, it's time to tackle them once and for all. Set aside a day or two and knock them out all at once, or add an item to your calendar once a week until they are all complete.
3. Create a maintenance schedule
Once you're all caught up with your fix-it list, you'll want to create a schedule for ongoing maintenance. This may be as simple as walking the property both indoors and out once a month to check for peeling paint, standing water, or other minor warning signs of trouble. In addition, preschedule a spring and fall inspection and maintenance appointment for your systems, including HVAC, irrigation systems, and gutters.
4. Get your lawn in shape
Yet another way to add major curb appeal on a tiny budget is by ensuring that your lawn is in top condition. If you frequently fall behind on lawn care, you may want to enlist the help of a landscaping service to get your greenspaces back in shape and keep them looking their best.
5. Invest in new greenery
Yet another way to affordably improve the look of your home is with new plants and trees. Create planting beds, add tubs of seasonal flowers at the front door, or plant a fast-growing tree to provide shade and insulation to a sunny spot. Remember to favor plants that are native to your area in order to reduce time, money and environmental impact related to fertilizer, water, and pest control.
6. Invest in smart upgrades
Smart home improvements not only add value to your home at resale time—they pay for themselves in energy savings and convenience as well. Consider a fully integrated smart home system or start out small with a smart thermostat, doorbell, or door lock. Resolve to add a new smart upgrade to your system each season in order to gradually and affordably transform the way your home works.
7. Conduct an energy audit
Consult your utility provider about an energy audit to find out what changes or improvements you can make to your home that will increase its energy efficiency. You may find that you're losing a lot of money to leaky window frames and drafty doorways when a little caulk and sealant would make a world of difference.
8. Add a fresh coat of paint
One of the most affordable ways to transform a room—or your whole home—is with a brand new paint color. Start small by sprucing up your favorite room or go bigger by transforming your kitchen through painted cabinetry. You're only limited by your time and your imagination.
9. Update finishes and fixtures
One of the easiest ways to date a home's interior is through outmoded light fixtures, switch plates, cabinet pulls, and other small finishes. The good news is that these are also among the most affordable changes you can make, and they are easy to DIY. Start small with drawer and cabinet hardware in kitchens and baths, then move up to freshly updated switch plates and outlet covers. Consider interior door hardware in a contemporary style, then have your handyman hang updated light fixtures and install new plumbing fixtures for the finishing touch.
10. Consult with your real estate professional
Your most important 2021 resolution should be to have a cup of coffee with a real estate professional, either socially distanced at your local coffee shop or via Zoom. They will be able to walk you through the design trends that everyone is clamoring for right now so that you can make a more informed decision about where to spend your home improvement dollars.
In addition, you may want to ask for a referral to your agent's most trusted home inspector. This will allow you to have a professional come in and view your home with a fresh set of eyes, and identify repairs and improvements that are needed. In addition, your home inspector can help you categorize your updates into those that are urgently needed and those that can wait a few months or even years.
If you'd like to receive regular email updates, please contact me to be added to our private client list. If you're thinking of buying or selling, call today for a confidential consultation.