Introducing Sarasota's Newest Luxury Bayfront Condos for Sale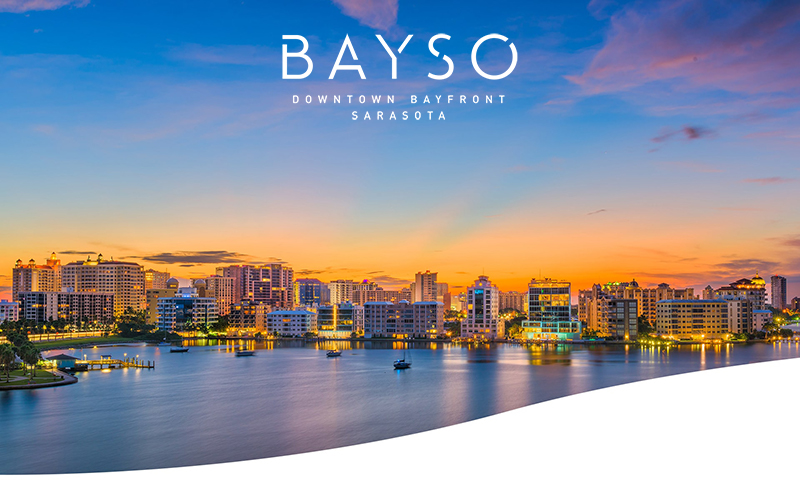 Delray Beach based developer, Kolter Urban has just launched some virtual sneak previews of its latest planned 149-unit luxury condominium tower, Bayso Sarasota. The new luxury condo tower will be located in the Quay adjacent to The Ritz Residences Sarasota, Kolter Urban's luxury condominiums nearing completion before the end of the year.
Individuals interested in previewing the new Bayso Sarasota can contact Judie Berger as there has been a preview center opened at the nearby Westin Hotel. Individuals will be able to meet by in person appointment or there can be a Zoom meeting setup to walk interested parties through the condo project.
With the completion of the condo project expected to be sometime in 2023, the groundbreaking for Bayso Sarasota is expected to be sometime later this year. Bayso Sarasota luxury condo project will offer:
Eleven 2 & 3 bedroom floorplans at 1,600 to 2,600+ square feet, priced from the $800,000s
Seven penthouses of 2,500 to almost 4,000 square feet, priced up to just over $3 million.
Just some of the amenities to be included will be an elevated resort-style pool, fitness center, residents club room with catering kitchen, and a private dog park.
If you'd like more information regarding Sarasota's latest luxury condominium project, like floorplans or to visit the sales gallery, please contact the Judie Berger Team by completing the form or calling Judie Berger directly, 941-928-3424.
Contact Judie Berger for More Information Regarding BAYSO Sarasota
---
ORAL REPRESENTATIONS CANNOT BE RELIED UPON AS CORRECTLY STATING REPRESENTATIONS OF THE SELLER. FOR CORRECT REPRESENTATIONS, MAKE REFERENCE TO THE BROCHURE AND TO THE DOCUMENTS REQUIRED BY SECTION 718.503, FLORIDA STATUTES TO BE FURNISHED BY A SELLER TO A BUYER OR LESSEE.
This project has been filed in the state of Florida and no other state. Prices, terms, and availability are subject to change at any time without notice. Actual improvements, including furnishings, fixtures, recreational facilities, and amenities, may vary from those shown, and views may not be available from all units. This is not an offer to sell or solicitation of offers to buy the condominium units in states where such offer or solicitation requires prior qualification.