New Development Update | Bayso is Sold Out in Record Time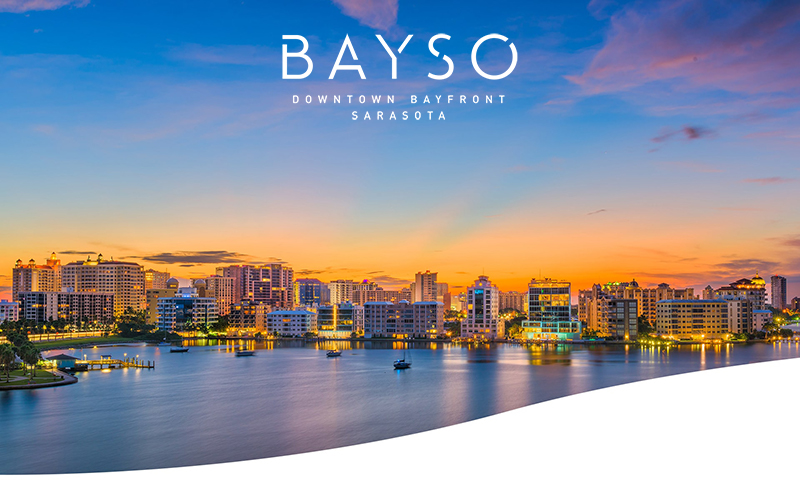 Bayso, a collection of 149 luxury condominiums located within the Quay Sarasota waterfront district, is completely sold out. Developed by Kolter Urban of Delray Beach, Florida, the Premier Sotheby's International Realty sales team sold the last home in January 2022, less than 12 months after the first sale was made in early 2021. Vertical construction began in August 2021 and completion is scheduled for the fall of 2023. Premier Sotheby's International Realty's new development division is responsible for the sales effort. The sales team engaged with thousands of customers and cooperating brokers from across the country, both digitally and in person, to make more than $200,000,000 of sales in record-breaking time.

Kolter Urban has completed and is in the process of developing more than $3 billion in residential projects, including over 2,800 waterfront, water view and amenity-rich urban condominium and townhome residences in Florida and the Southeast. Bayso is Kolter Urban's fourth tower in downtown Sarasota.

Premier Sotheby's International Realty's new development division represents an exclusive collection of new construction communities in Florida and North Carolina, capitalizing on an unrivaled brand in the consumer/brokerage markets, and an experienced new development team with a customer-centric new development sales process.

"Bayso is an overwhelming sales success," said John Gleeson, senior vice president of development services at Premier Sotheby's International Realty. "Kolter Urban has a deep understanding of all elements of the consumer market – from architectural design, floor plans and finishes to amenities and services. Kolter's ability to execute at a high level and the best-in-class professional project team enabled our very busy sales executives to serve a strong consumer market with white-glove service. We were honored to help 149 families secure their new residence in downtown Sarasota. We believe these families will be thrilled with their new homes and contemporary lifestyles."
If you'd like more information regarding Sarasota's latest luxury condominium projects, like floorplans or to visit a sales gallery, please contact the Judie Berger Team by completing the form or calling Judie Berger directly, 941-928-3424.
Contact Judie Berger for More Information Regarding BAYSO Sarasota
---
ORAL REPRESENTATIONS CANNOT BE RELIED UPON AS CORRECTLY STATING REPRESENTATIONS OF THE SELLER. FOR CORRECT REPRESENTATIONS, MAKE REFERENCE TO THE BROCHURE AND TO THE DOCUMENTS REQUIRED BY SECTION 718.503, FLORIDA STATUTES TO BE FURNISHED BY A SELLER TO A BUYER OR LESSEE.
This project has been filed in the state of Florida and no other state. Prices, terms, and availability are subject to change at any time without notice. Actual improvements, including furnishings, fixtures, recreational facilities, and amenities, may vary from those shown, and views may not be available from all units. This is not an offer to sell or solicitation of offers to buy the condominium units in states where such offer or solicitation requires prior qualification.